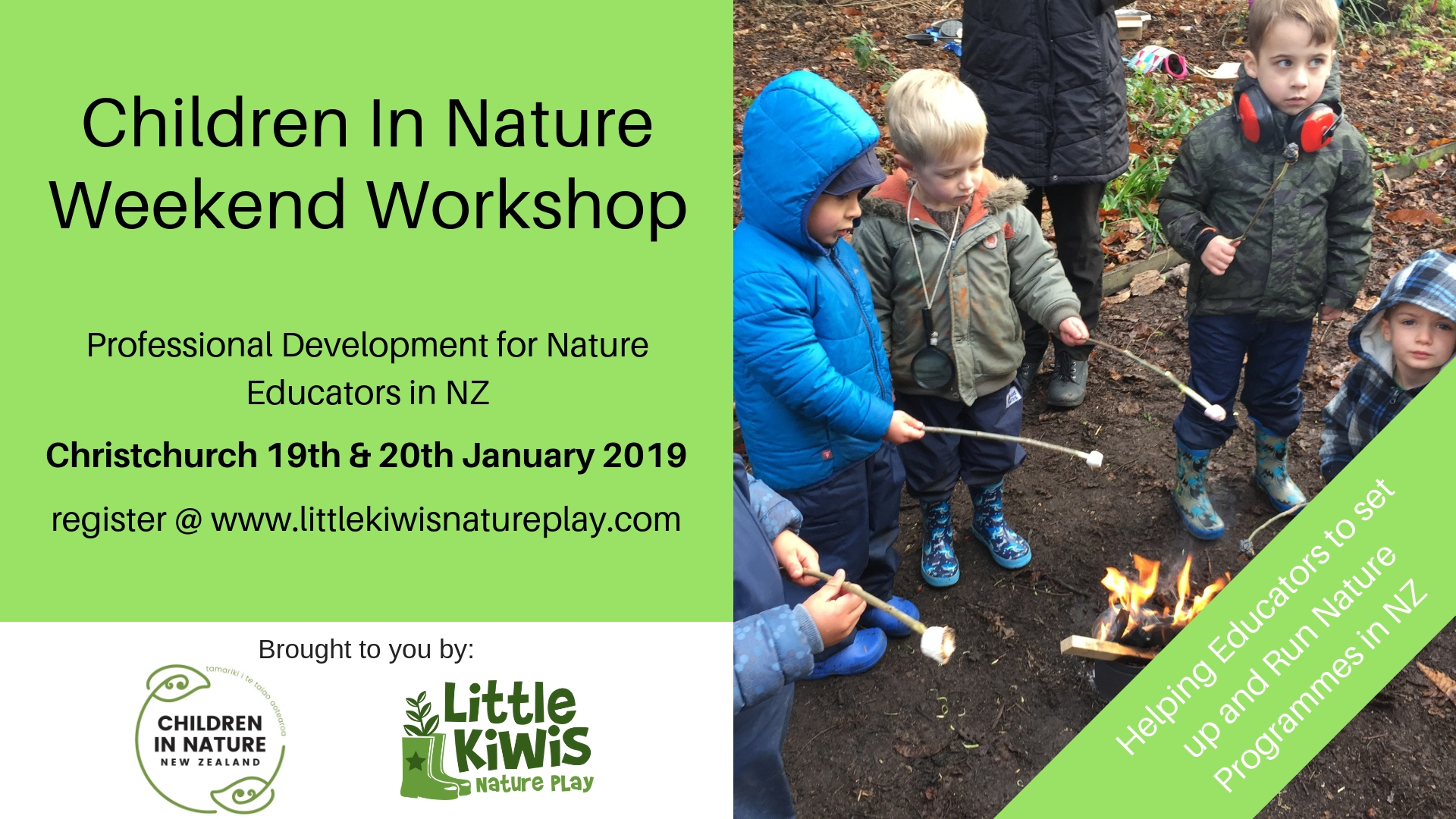 Children In Nature Weekend Workshop 2019
This 2 day workshop will give confidence to people who want to educate children through nature in single day or multi day programmes in New Zealand. It has been designed specifically with the New Zealand educator in mind.
We will cover:
What is nature education and forest schools for New Zealanders
Purpose and Philosophy
What does starting look like – the practical stuff
Day to day planning – what a day 'could' look like
Curriculum in nature
Risk assessment and emergency planning
Group management outdoors
Practical skills – Knots, shelter building, Tools
Other things you will gain or receive:
Confidence to progress
Access to a private Facebook group to ask questions and get support
A copy of an Operations Manual to use and adapt for your own use
New ideas
New friendships with like minded educators
Knowledge
Inspiration to make it happen!
LOCATION: The Workshop will be held at Avebury House on Everlyn Couzins Road in Richmond, Christchurch which is just on the edge of the Avon River Red Zone. We will spend some time in the red zone during the two days training.
PLAN FOR THE TWO DAYS: Each day we will start at 9am through till 5pm. There will be a mix of theory and practical experiential learning to help you gain the most out of the weekend and to cater for various learning styles. The first day will have a focus on the why, planning and starting out and the second days focus will be more on risk management and group management outdoors. Interwoven in the two days will be some of the practical skills that are useful when working outdoors.
You will be sent out a more detailed structure of the two days closer to the time along with some other information.
On the Saturday evening, for those interested there will be a BBQ or similar to make the most of the opportunity of having a wonderful group of nature educators all in one space. It will be an opportunity to network, connect and process the days learning.
ACCOMMODATION: If you need help with finding accommodation or you live in Christchurch and are able to offer a bed to any of the other attendees, please let me know and I will help to put people in contact.
COST: Earlybird registrations are available till 10th December 2018 @ $390. Standard registrations are $420. Registrations close 10th January 2019.
SPACES LIMITED so get in quick!
ABOUT YOUR LEAD TRAINER: Celia Hogan is a facilitator of outdoor and nature-based learning, Celia inspires early years teachers to look beyond the day to day challenges and find outdoor learning opportunities where kids can blossom. While investigating how nature sessions could work within preschools she found teachers really struggled to get off site with their children. With support and guidance their confidence grew, and she is now excited to be running professional development for nature educators in ECE and primary. Celia originally studied outdoor recreation and adult education. For the past 20 years she has worked for a variety of outdoor education organisations internationally, setting up, developing and running outdoor programmes, wilderness expeditions, leadership development programmes and establishing risk management and safety systems. Now with two wild pre-schoolers herself she wants to share her passion for getting children outdoors and into nature.
There will other people who pop into the workshop to support individual sessions.
QUESTIONS
Please email Celia on littlekiwisnatureplay@gmail.com for any questions you may have. Alternatively call on 0221582113.